Explore the Genesis SUV Lineup
2023 Genesis GV80
---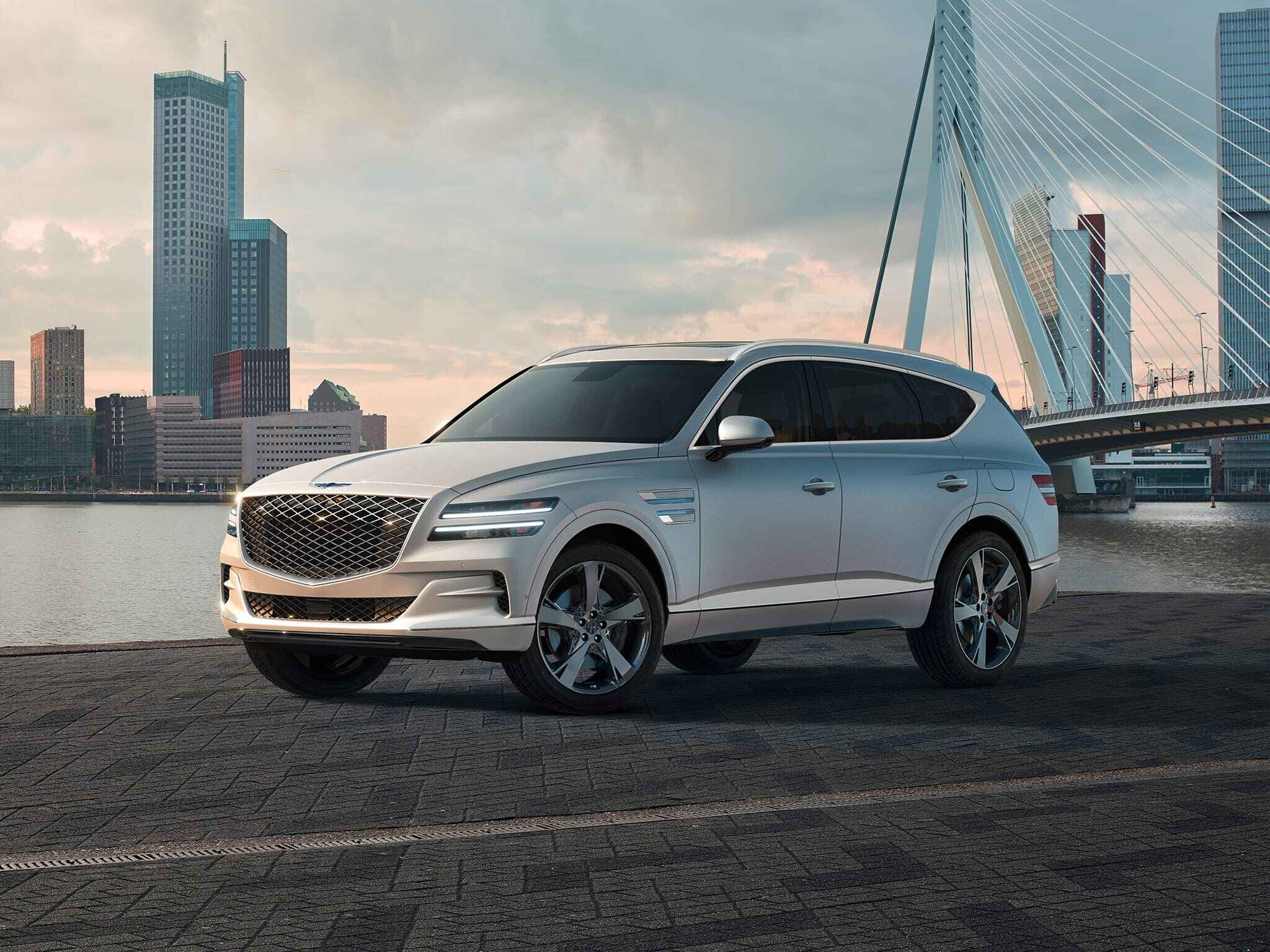 Elegant Craftsmanship
The 2023 Genesis GV80 is an impressive work of craftsmanship. When it comes to construction, nothing has been overlooked. The exterior lines are elegant and stately, with modern features like 20-inch alloy wheels. When it comes to the interior, luxury doesn't even begin to describe it. The leather upholstery, wood, and metal trim work magnificently to create a beautiful ambiance. The GV80 can be customized in multiple trims to build your dream luxury SUV.
The GV80 is fitted out with all the latest tech. From the large 14.5-inch infotainment display to the integrated cameras when you drive this SUV, you'll know the future has arrived. Many engine options are available, starting with a 300HP 2.5-liter 4-cylinder engine to a 3.5-liter V6 engine that can put out 375HP. Regardless of your choice, this SUV will be a joy to drive.
Genesis has installed the latest safety features into the GV80, including an adaptive cruise control system and automated braking. You can be sure you and your family will be kept safe.
2.5-L 4-Cylinder (Base)
300HP (Base)
14.5-Inch Display
20-Inch Alloy Wheels
Spacious Interior
View New Inventory
---
2023 Genesis GV70
---
Sophisticated Style
Introducing the magnificent Genesis GV70. Let's start with its beautiful design. The exterior has sharp lines and elegant features like large 19-inch wheels and a stately front grille. Inside, you'll find a spacious cabin that has been beautifully decorated.
Regarding technology, the GV70 has an impressive entertainment system that includes a 16-speaker Lexicon stereo system, a widescreen display, and integrated Apple CarPlay and Android Auto. You'll also love the panoramic sunroof on long road trips.
The GV70 has impressive performance. You can choose a turbocharged 2.5-liter 4-cylinder that produces 300 HP or a twin-turbocharged 3.5-liter V-6 engine that produces 375 HP. All models come in eight-speed automatic and all-wheel drive. You'll have plenty of power for around town and long road trips regardless of which model you choose.
Safety-wise, Genesis has upgraded the GV70 with all of its latest technology. This includes automated emergency braking, lane-keeping assist, and adaptive cruise control. Overall, the GV70 is a very impressive SUV.
2.5-Liter 4-Cylinder (Base)
300HP (Base)
8-Speed Auto
Automated Braking
Lexicon Stereo System
View New Inventory
---
2023 Genesis GV60
---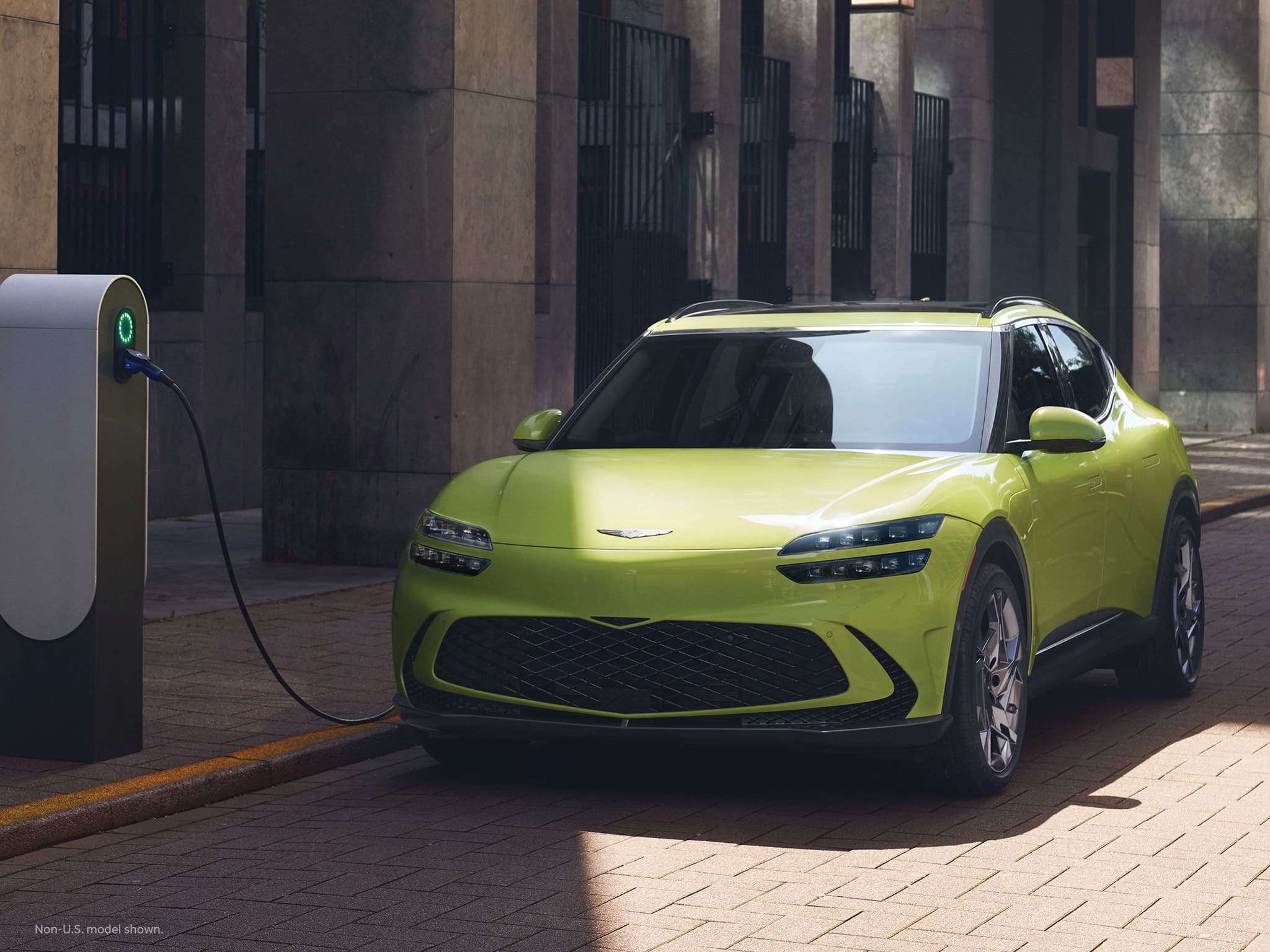 The Ultimate Combination of Style and Performance
The Genesis GV60 is one of the market's most luxurious compact all-electric SUVs. The GV60 is an all-wheel-drive SUV with dual motors. The GV60 can produce anywhere from 314 to 429 HP depending on your chosen trim. You can expect 248 miles of range on a full charge, making it one of the most powerful small SUVs available. Whether driving around town or down the highway, the GV60 is a joy to ride.
Unlike other Genesis SUV models, the 2023 GV60 is more understated, sleeker, and modern. You'll find comfortable front and back seats and plenty of storage space in the cabin. The large 12.3-inch dual displays and integrated features like a facial recognition system allow you to open and start your car feeling very futuristic. The new Genesis GV60 is an excellent choice if you're looking for a compact, safe, high-tech all-electric SUV.
12.3-Inch Dual Displays
Facial Recognition Tools
Dual Motors
314HP (Base)
248 Mile Range
View New Inventory
---
Discover the New 2023 Genesis SUV Lineup
---
Discover the amazing Genesis SUV range
At Genesis of Framingham, we have a great selection of Genesis SUVs for you to choose from. Let us help you find your dream car today!
---
Make an Inquiry
* Indicates a required field